Aspar Paracetamol 500mg 16 Tablets
Headaches, toothache and period pain can knock you for six at some really inconvenient times. Keep Aspar Paracetamol Tablets to hand to help you keep on top of discomfort whenever it strikes. Simple pain relief when you need it most, delivered to you direct from Cosmetics Corner. For the relief of mild to moderate pain of headache, migraine, neuralgia, toothache, sore throat, period pain. Also the symptomatic relief of rheumatic aches and feverishness, pains, colds and flu.
Please ensure you only buy your medicines online from sellers who are displaying the distance selling logo like below. This shows the seller is legally allowed to sell medicines online. If the logo is clicked it should take you to the MHRA website which will show if the seller is permitted to sell medicines.
 A maximum of two boxes per order in accordance with MHRA guidelines.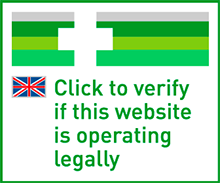 ---
We Also Recommend
---